5 interdimensional, gut-wrenching, incredibly human stars
Goodreads | Amazon
| Bookshop.org
Currently #1 in Science Fiction Adventure in the UK!!! Go Michaiah Johnson!
Do you really know who you are until you are pushed to limits you didn't even know existed?
The Space Between Worlds
is about the people that entertainment rarely wants to talk about. The people cast away from a city where capitalism has run so rampant that outside of the city, a slum city has formed, full of the humans that the world would like to conveniently forget. And as much as the shining utopia of a city would like to forget them, it is full of people who are one decision away from being completely different people, or changing the entire world.
This book masquerades as a science fiction novel, but it is entirely about the people. It uses the multiverse to explore who we could be if we had made a couple different decisions in our lives. To start a monologue on whether infinite amounts of you would lead to the undoing of your humanity. To question if anything is even worth valuing.
This book turned me on my head, and was nothing like I expected, but I was okay with it. If you go into this book thinking it is going to be about the world, and about the multiverse, it will probably fall short. There were some questions I had coming in about the world and the science that I'm not sure I got answered, but in the end it didn't matter to me, because I left with questions about what it means to be human. Questions about who I could be; if I am who I am solely because of the cards I have been dealt; if I am who I am because of the decisions of others and how they eventually affected me; and how much do my decisions even matter when the world is so interconnected with others.
How would knowing every possible way you could have died affect you?
Bonus: When reading, spend time appreciating The House. Appreciate its majesty and hope and wish for more writing about it. Together maybe our wishes will come true!
The Space Between Worlds
feels less like science fiction and more like a speculative fiction. The science fiction element was to pose questions rather than to be the focus. The characters are a wonderful reminder that we are all human, even the people capitalism leaves behind.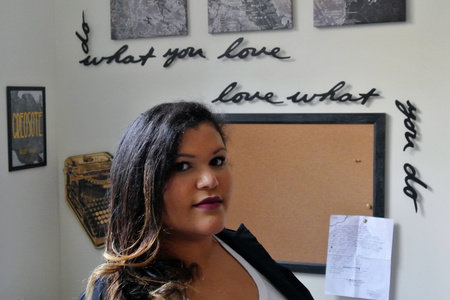 Micaiah Johnson was raised in California's Mojave Desert surrounded by trees named Joshua and women who told stories. She received her bachelor of arts in creative writing from the University of California, Riverside, and her master of fine arts in fiction from Rutgers University–Camden. She now studies American literature at Vanderbilt University, where she focuses on critical race theory and automatons.